cofenster x Mindpool: how listening to employees helps manage growth 
Blog
•
Thu Jun 09 2022
•
Written by
Mindpool
•
6 minute read
cofenster is a Hamburg-based scaleup that provides an all-in-one video software, which enables organizations to produce professional in-house videos for corporate communication. Integral to this is the idea of an evolving workplace and the emergence of a hybrid format that alters the way we work together and communicate. With a hybrid workplace comes the need for a key ingredient: asynchronous communication – this is where cofenster shines with their category-defining video tool. 
Today, cofenster is on a growth journey and staying close to employees is a key priority in building a sustainable business. As such, Mindpool sat down to have a chat with cofenster's CEO and co-founder, Tom Vollmer, about how Mindpool and cofenster's ambitions mesh well together, as well as how Mindpool can continue helping this cutting edge video software company. 

Two companies with a common vision
Whilst  offering very different tools, cofenster and Mindpool do share one particularly critical goal: bolstering organizational communication, from which stems better aligned values and more engaged employees. cofenster does this through providing a straightforward way to film personable videos that can be disseminated through organizations, facilitating efficient asynchronous communication. Mindpool does this by providing a platform where all employees can share their pivotal insights in order for decision-makers to make more informed decisions, based on the collective intelligence of the whole organization. As Tom elucidates:
"This is where there is a nice synergy between cofenster and Mindpool – you have the data-gathering mechanisms via Mindpool to understand the points of action and the communication capabilities of cofenster to steadily communicate what is actually being done. Organizations that possess these two components are much more likely to be successful."
It is common sense that clear and effective communication in organizations is of utmost importance. But why is this so crucial? Tom explains that communication is the foundation of absolutely everything we do, both privately and publicly, and that good communication = good relationships. Hence, the emphasis placed on communication capabilities is absolutely warranted because this is what fosters alignment between management and employees more than anything else. What Tom also mentions is that it is not enough to just be aligned, employees need to feel aligned, too – an issue which is exacerbated in growing organizations:
"People inside a company play a pivotal role when it comes to making companies successful. At the end of the day, leadership's main job is to hire the best people AND listen to them – that's the part where Mindpool comes in. Of course you need to hire them, but that's not enough; you also need to listen to them on a constant basis. But the bigger you get, the more difficult it becomes to listen to everybody. That's where Mindpool can really help."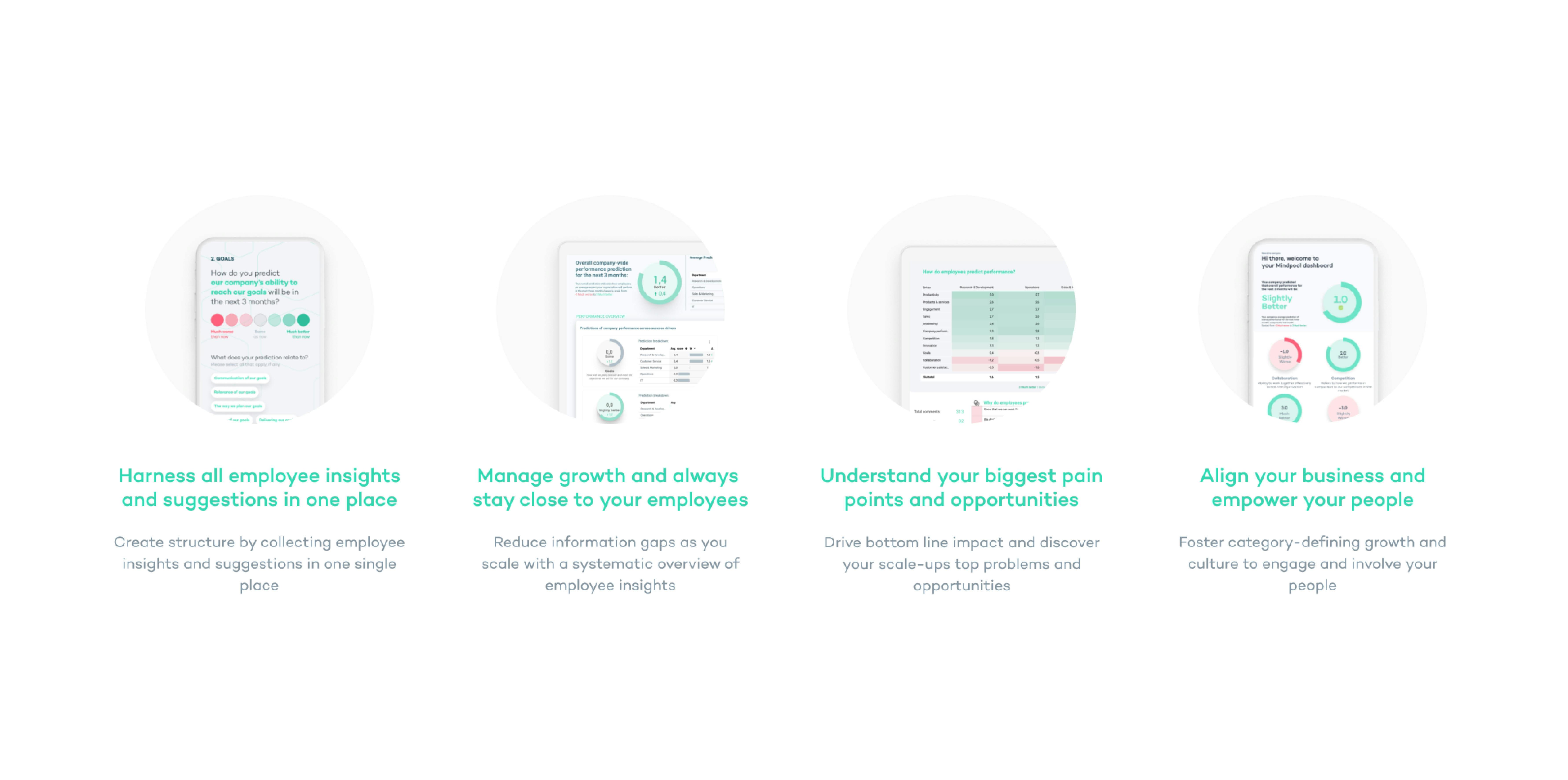 Having practices and procedures in place that allow organizations to actually listen to the collective insights of employees may sound like common sense. However, these practices and procedures need to be more than just an "open door policy". First and foremost, many employees do not feel comfortable enough to speak up. Thus, whilst the notion of an open office door may be gracious, it may simply not be sufficient. 
Additionally, imagine such an open door policy functioning at 100% capacity – it is likely to just wreak havoc, as opposed to support communication, as managers would be bombarded with information…and then what? They might jot down the things that they remember the most, delegate duties elsewhere, "make a mental note", etc. To passively listen is not synonymous to retaining and acting upon employee insights; what is required is institutionalizing a process for actually collecting, processing, and presenting the insights from employees – not just in one ear and out the other, but a tool that presents actionable insights based upon the gathered data from employees dispersed throughout the organization. Mindpool acts as both an ear and a practical push in the right direction. cofenster's video software complements this process impeccably by providing the swift dissemination of easily digestible information in a personable video format that employees are more likely to gladly consume. 
Decision-making is a collective process, not an isolated one
Building upon the aforementioned discussion concerning listening to employees, Mindpool asked Tom what employees mean to him at cofenster and how the company values employees specifically when it comes to decision-making. This was his two cents on the matter:
"Leaders need to be open enough to call shots based on all the information they can get – which is where coworkers are very valuable. As a leader, you should put yourself in a position where you listen to all the data sources and THEN make the call. You should always have these sources available and that's where Mindpool really comes in handy – to provide that employee data source in conjunction with other data sources."
To reiterate, key insights and data are not retained on only the management level; it is dispersed throughout organizations, transcending any position or hierarchy – something which cofenster clearly appreciates and taps into. Employees possess so much crucial information that, when aggregated, have the potential to transform the way organizations look ahead. By utilizing employee insights, a wealth of, otherwise untapped, data is unveiled. Think about the number of interactions that employees have every single day, feeding into their intuition and gut feeling. It is this amassed tacit knowledge that is an absolute game-changer. According to Tom, 
"Mindpool has been pivotal in understanding trending topics from employees – what people actually care about – which we have incorporated into our OKR cycles on a higher level."
That's another integral element of Mindpool's mission. Listening to employees and aggregating their insights has to be an iterated process in order to create sustainable success. As Tom mentions, the fact that topics may be "trending" during certain periods elucidates the reality that insights are constantly developing, meaning a one-time use of Mindpool might address the current topic in that moment, but then neglect all the evolving insights yet to come. Proactivity requires iteration, and iteration requires a stable mode of collecting and processing employee insights – which is why Mindpool was founded. 
cofenster's video tool meshes perfectly with this, as it provides a seamless mode for feedback to, and contact with, employees throughout a given organization. Being able to film and disseminate a video with key messages is vital when keeping employees up to date with decisions taken – all the while ensuring goals remain aligned and employees remain engaged.
Innovating with the team 
To wrap up the discussion, Tom Vollmer mentioned the importance of leaders encouraging employees to innovate and giving them the confidence to do so. Without the input from employees, organizations are bound to stagnate because ignoring the abundance of tacit knowledge that employees have accumulated is the same thing as ignoring key data and insights that could have a huge impact on decision-making.  
"Mindpool can really have that educational benefit as well – encouraging people to carry on trying and carry on trying to innovate. Mindpool can be the facilitator of a flow of innovation and great insights."
By providing a platform where employees can remain anonymous, managers have the chance to get such strategic insights whilst barely lifting a finger. One of the best parts about employee insights is that there is no need to seek any external help – at the end of the day, who knows the company better than the employees that make up the entire business? 
Mindpool would like to extend a sincere thank you to the co-founder and CEO of cofenster, Tom Vollmer, for sharing all of his warm opinions on the Mindpool platform and the great harmony that it has with cofenster. If you want to learn more about the game-changing video software that is taking the business world by storm, have a look here or reach out to Tom himself! 
If you want to follow the Mindpool journey, which we certainly hope you will do, make sure to stay updated with our blog posts, newsletters, and social media platforms – we want to keep you as informed as possible about the world of collective intelligence and all the benefits that come with this. 
___________________________________________________________________________________________________
You've just read a blog post from Mindpool - a platform that helps you harness the collective intelligence of employees. Mindpool taps into the knowledge of employees to provide actionable predictions and curated insights. Mindpool is rooted in decades of research in collective intelligence. Read more from our resource universe or contact us here if you'd like to tap into the valuable knowledge of your employees.