Carlsberg Italia x Mindpool: the power of employees when looking to the future 
•
Wed Jun 08 2022
•
Written by
Mindpool
•
7 minute read
Carlsberg Italia is one of the organizations that ran Mindpool as a pilot in order to test and validate the benefit of employee insights – a field backed by decades of research and evidence proving the power of collective intelligence. Mindpool decided to dig a little deeper into what Carlsberg Italia had to say about using the collective intelligence of their employees and what value this has for the work that they do. We spoke to the Human Resources Director at Carlsberg Italia, Vedrana Perica, about everything from the importance of feedback to the need for continuous pulse checks.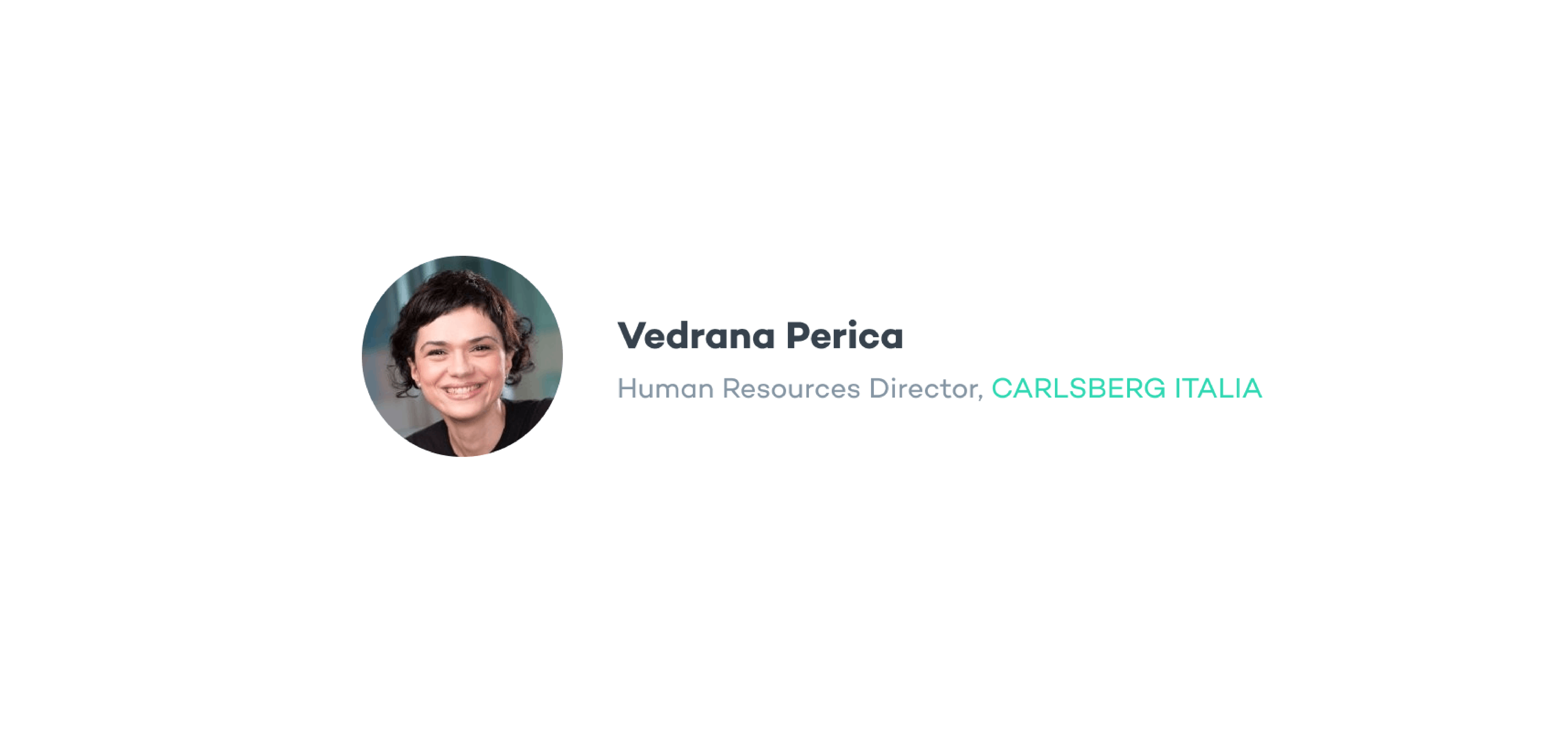 To start off the conversation, we asked Vedrana what she thought not just of the Mindpool platform, but of Mindpool as an organization, to which she responded:
From our very first meeting, working with Mindpool has felt like two partners in a dialogue. It really feels like we are in this together and that there is this very important alignment and sense of partnership. Mindpool is not just an external provider, giving us a product and then 'that's it' – I like Mindpool's more personal touch. 
This is something that Mindpool places great value on. As an organization that advocates for bridging the gaps between management and employees, we naturally place great importance on communication, engagement, and collaborating closely. This means that any organization working with Mindpool is much more than just a customer – they are entering into a partnership, just as Vedrana highlights. 
The gift of feedback 
Something of great significance, according to Vedrana, is that of feedback. Namely, the skill of being able to effectively communicate a certain message, whether from an employee to their manager or a manager to their employee. This skill is worthy of investing in, because without this feedback, organizations are so much  more vulnerable to miscommunication. 
I have always been an advocate of feedback, whether professionally or personally. You always need high-quality and continuous dialogues, otherwise you might go a very long time miscommunicating about something that could have taken very little time to address or fix. This is where Mindpool comes in – here you have a collective feedback on the things that are considered the most important in that moment. 
There are three very important elements to unpack from what Vedrana said here: the notion of continuity, the importance of the "collective", and being able to facilitate engagement. 
Continuity is absolutely integral when it comes to communication. In order to build an inclusive and proactive organization, the process of gathering these collective insights has to be iterated. The more managers invest in the collective intelligence of their employees, the higher quality data they will be able to collect from them. This links nicely to the benefit of increased engagement, too. Feedback is closely intertwined with the level of engagement in an organization, and, though feedback has indeed existed for a long time, the insights and future-oriented element was missing. Take traditional engagement surveys as a classic example of this, wherein employees fill out how happy they are with their managers and so on – essentially a form of collective feedback. However, what if we were to take this one step further? What if we realized that employees have more than just opinions on their managers and that they hold an abundance of collective insights on the organization itself? Insights that can impact bottom line performance of the organization.  
That's where Mindpool decided to step in. It has been statistically proven that engagement is correlated with profitability; in fact, companies with a highly engaged workforce are 21% more profitable (Sorensen, 2013). Peak engagement comes from involving employees in decision making processes – which is exactly what you do when using the Mindpool platform. Not only do employees feel more engaged, but managers get faster access to critical information, helping to navigate uncertain situations and environments.
As Vedrana says herself:
There are so many factors that need to interact for employees to be happy at work, and Mindpool takes this into account by asking employees the questions that matter – what their insights are. Prior to Mindpool, we had never used a survey that focused on employees' insights with regard to a company's future performance. It was just focused on "As is", or the present company context, for example "My manager inspires me to do my tasks well" with only a yes/no answer. What makes Mindpool innovative is changing the perspective to that of the future.
Mindpool is dedicated to reaching far above standard, generic questions and asking more targeted questions that, when accumulated, provide data-driven and actionable insights for managers. This takes surveys to a brand new level – from vague opinions about managers to tangible insights on the future of the organization. 
Mindpool goes above and beyond yes or no questions, allowing employees to provide tangible insights and predictions – not only that, but the platform also provides data analysis, which, when combined, gives you the gift of collective insights.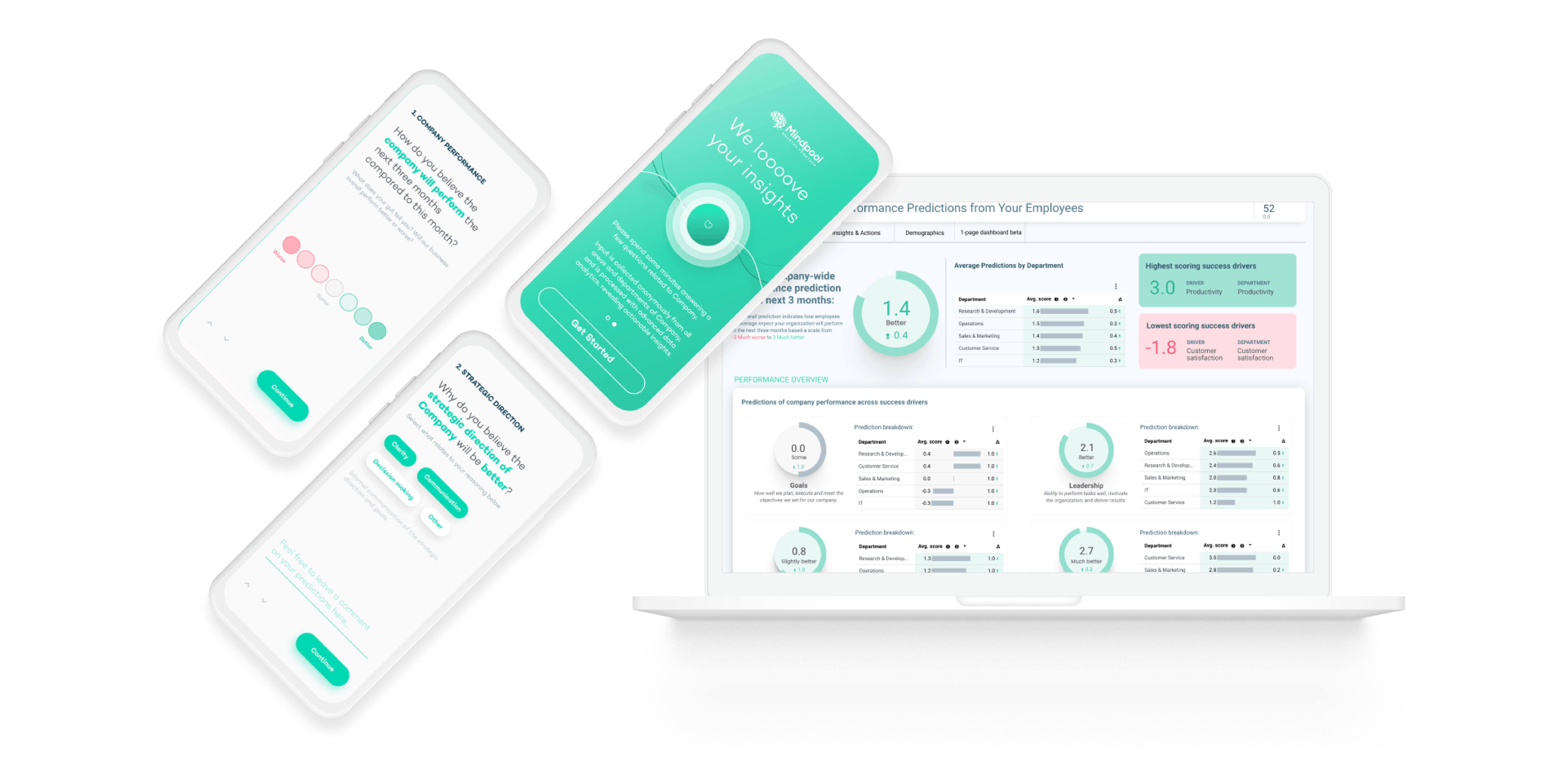 Mindpool: an Intuitive Platform 
Frictionless participation and aggregation of insights is something considered of utmost importance. Mindpool is designed to be the most functional and navigable platform for both employees and managers, and this was Vedrana's two cents on the matter: 
What stands out about Mindpool is that it's very user-friendly, questions can be co-created so that they are tailored to specific circumstances, and it is very easy to interpret and work with the results, meaning it is easy to enforce new actions based on the collective insights. There is no one way to use Mindpool – it can be used however any company wishes, and for Carlsberg Italia that meant using Mindpool for pulse checks to ensure our actions were adjusted based upon changes. Mindpool is a transformable tool. 
Key here is also the malleability of Mindpool. We are, of course, aware that not all organizations look the same, act the same, or have the same goals. That is why our team is always ready to sit down with companies and customize our tool depending on what managers are looking for. This entails customized questions and data analytics, thus allowing you to focus on exactly the areas you want, filtering out any white noise. Are you looking to conduct pulse checks across the entire organization for a comprehensive overview of trends and insights, or are you perhaps looking to delve into something more specific, such as change management initiatives? We allow you to customize your own Mindpool so the platform aligns 100% with your ambitions. For Carlsberg Italia, this meant going down the comprehensive pulse checks route:
Our main goal of using Mindpool is to check how valid our plan of action is as we go along, and see if anything needs to be adjusted either due to changing external or internal contexts. 
Ingredients for Successful Decision Making 
We've all heard of the expression 'great leaders are great decision makers'. But strong leadership is so much more than making decisions solo – great decisions require a multiplicity of people, and the best starting point for this is employees. This is something that Vedrana commented:
I'm so thankful that I work in an organization where it is understood that making good decisions requires interacting with the people who work in that organization. When you are a leader, your main job is to lead TOGETHER with employees. That is the only way that change can take place.
Arguably, changes can always be made, but sustainable changes are much harder. If employees are under the assumption that their insights are irrelevant to the management level, they are less likely to innovate with others in the organization. But when employees feel involved and know that their voice actually matters (not just on a one-off, but repeatedly), the collective innovation contributed by employees will excel. 
This synchronicity between employees and managers is the crux of successful decision making, as highlighted by Vedrana:
To make the right decisions, you need to have the right information, in the right moment, with the right people.  
The 'right people' are the people you work with every single day, it's the people that interact with clients and have a wealth of tacit knowledge – your employees. 
A big thank you to Human Resources Director at Carlsberg Italia, Vedrana Perica for her comments on using Mindpool as a pilot! If you are interested in learning more about human resources and Carlsberg Italia, reach out to Vedrana!
If you want to follow the Mindpool journey, which we certainly hope you will do, make sure to stay updated with our blog posts, newsletters, and social media platforms – we want to keep you as informed as possible about the world of collective intelligence and all the benefits that come with this. 
___________________________________________________________________________________________________
You've just read a blog post from Mindpool - a platform that helps you harness the collective intelligence of employees. Mindpool taps into the knowledge of employees to provide actionable predictions and curated insights. Mindpool is rooted in decades of research in collective intelligence. Read more from our resource universe or contact us here if you'd like to tap into the valuable knowledge of your employees.